Yesterday I spoke with my mom on the phone, and she broached that unavoidable issue: Holiday Wish Lists.
I love Christmas as much as the next girl, but when it comes down to coming up with a list of things that I really want on the spot, it's hard.  While shopping I am constantly finding things that I would love to have but don't think I should just buy for myself, but I can never seem to remember what I found.
It is for this reason that I am going to start accumulating a list now of the items that I definitely hope to find under the tree this year.
A Moleskine Planner
Hey, I'm practical.  I love my 2009 Moleskine, and it's saved me from forgetting my homework or a meeting countless times.  At $18.95, it's not a bargain and I would love for someone to buy it for me.
Spiralizer
I am a foodie at heart, and I love my raw zucchini enough to eat it a million different ways, including thinly sliced and doused in sauce.  I've been making due with a vegetable peeler and a knife, but this takes a million years to do and the results are just mediocre.
Instant Camera
I've fallen in love with the quirkiness and immediacy of instant film images, and while I know Polaroid has been making a comeback, I'd like to get something that I know to be a little more reliably produced.  It was between these two.  Does anyone know about them and would like to give me/my parents some guidance?
Fujifilm Instax Mini 7S Film Camera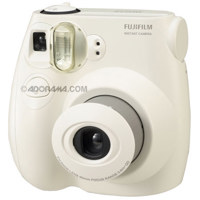 Fuji Instax 200 Instant Film Camera
The September Issue
I haven't seen it yet and know that I'll want to watch it over and over again.
Blender and/or Immersion Blender
I need one of these - my life is seriously lacking in smoothies and pureed vegetables.
Anna Sheffield for Target Jewelry
I am in love with this woman's designs.  From Bing Bang to her line for Target, I want to cover my body in her pieces.
A Simple Sewing Machine
I have so many little hemming projects that I need to do, and it would take me many hours that just don't exist to complete them all by hand.  This is where a simple  little sewing machine would prove to be very useful.
RagTrader Jewelry
RagTrader is a local Pittsburgh jewelry maker who makes the most darling vintage-inspired jewelry.  I actually met her at an Artist's Fair and bought one of my favorite rings ever.  Her products are inexpensive and of good quality, and I really think I'll be going to her for some of my own Christmas shopping needs.
I know it may seem a little early for Christmas, but this week's episode of Grey's Anatomy got me in the holiday mood.
What's on your wish list this year?