I don't regret driving a total of 8 hours today to go pick up my sister from Logan Airport.  She's been in Panama a month and I don't get to see her much, so this was a huge treat. Especially when the drive down was filled with views like this - and these aren't even the good ones.  It's hard to take a good picture when you're speeding along at 73 mph.
I don't regret leaving the house with a rather epic cowlick - normally I can get this head of hair under control but today I was in a bit of a rush.
I don't regret inhaling a lot of this cereal on my journey.  It tastes just like the Special K vanilla almond cereal that I loved, but without all of the chemical grossness that comes with Special K.  Really, this stuff is like candy.  I bought it on Sunday and have eaten several times a day as a snack.
I don't regret eating the baguette that was given to me as my side at Panera as a default.  Normally I make sure I get the multi-grain baguette - you know, whole grain everything, refined flour bad, blah, blah, blah.  But oh, MAN, was this bread good.  So light and fluffy and delicious.  Totally worth the so-called 'empty' carbs.
I don't regret not buying this Rodarte for Target dress.  The Target we stopped at (Vermont doesn't have any so we make sure to stop into any that we see when we're out of state) was surprisingly well stocked with the line, and while the last dress that they had was a small and would have been an absolutely perfect Christmas dress, I refrained since I already have more than enough dresses in my closet and am trying to cut back on my shopping sprees a wee bit.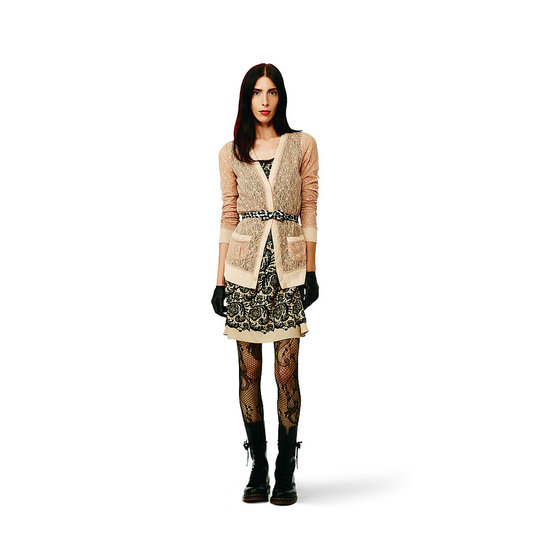 I don't regret buying this cute skirt, though - it was $17 and I actually don't have anything like it.
[caption id="" align="alignnone" width="320" caption="And this isn't me - it's a cute outfit from lookbook.nu. I just really like the way she styled it. Click the image for her post."]
[/caption]
I may regret writing this post instead of going to bed before 1 am.  Oh well!
Have you had any recent regrets?  Or are you just living life and learning from your mistakes?